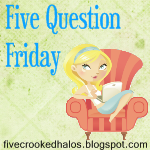 1. What is on your Summer 2013 Bucket List?
Take the kids at least every other weekend to the "farm", take the kids on a hike, go to the Apple Festival, take kids apple picking (at the end of August), watch fireworks at the town's local summer festival. That's about it... we're dreaming big I tell you!
2. What is the most useless item on your child's back to school list?
Well, we don't have a list considering my kids are under 3 and we are going to home school..... so I guess a back to school list in itself would be useless!
3. What is one reality TV show that makes no sense to you?
Oh gosh, there are so many that fit into that category.... Jersey Shore, Big Brother, Real World, The Kardashians... etc etc etc
4. What is one movie you can watch over and over again? Why?
If I don't answer this honestly my husband will make it known anyways... the Twilight series. No shame! The movies really ARE NOT that great, but I just love seeing books come to life, and call me crazy but I actually enjoyed the books. No, I'm not a crazed fan, but I did enjoy them. I could also watch The Notebook, Knocked Up, and Juno over and over and over..... AND Harry Potter ;-)
5. What's your favorite back to school tradition?
We didn't ever really have back to school traditions... we always went to camp for the summer, mom bought our supplies and then we started school. I always wanted to get new clothes for each school year, I though EVERYONE just HAD to get new clothes. I guess that was me just wanting to fit in, but now that I'm adult and have children.... I'm glad I didn't fit in!