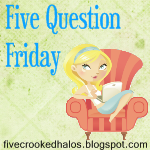 1. If you could buy any car, money not an option, what would it be?
Honestly? I just want a really nice van... that might sound crazy, but we're planning on having 4 kids, and we drive cars until you can't drive them anymore. Might as well get something practical right? LOL!
2. What was your worst first date ever?

Worst first date? Went out for Frosties after going to my high school choral concert w/Jeremy... came home and went to bed and woke up vomiting... yea. Not fun.

3. How old were you when you fell in love for the first time?
REAL love? I was 17, and I've never looked back :)
4. When was the last time you reconciled your checkbook?
Justin is in charge of all that now... so it's been a while! I got TIRED of doing it!
5. If you were going to fashion a "Wanted" Ad for a best friend, how would you word it?
Wanted: Best Friend who is willing to come over and just sit and watch a movie, hold a crying baby, or cook dinner... someone who understands when I can't go out or stay out late... and isn't embarrassed when I nurse my child. :)