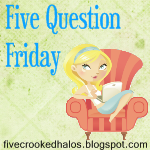 1. Do you apologize to your kids if you're wrong?
Boogie's not old enough for this to really pertain to us at this point, but I hope that in the future I will be able to do that. Nobody likes being wrong, but I hope I can set an example for my daughter by showing her that it's okay to be flawed, and it's okay to be wrong sometimes.
2. Do you have a class ring, Letterman's jacket, or similarly obscenely priced high school "must have"?
I have a ring and a letter... never got a jacket because they are seriously expensive, but I have a letter for marching band stashed somewhere!
3. If you could be one age for the rest of your life, what age would you choose?
23... I like how I feel now both physically and emotionally. I'm not the weight or size I hope to be but I'm comfortable in my skin, and I'm just at a point in my life where I am extremely happy with who I am and who I'm becoming.
4. What is your favorite (unused) baby name?
We love the name Lillian Naomi for a girl... Lillian was my paternal grandmother's first name, and Naomi was Lillian's mother's middle name. I think it would be a wonderful way to honor them if we have another little girl. For a boy we really like Cooper and Gibson... but I don't have a boy's name that I'm completely in love with. I want something original and special like Boogie's name... but I don't really need to think about that until I'm pregnant with a little boy lol!
5. If you could make your child like something what would it be?
That's a hard one. Immediately I want to say something Jesus related.... but that one I think I want her to like on her own. So, I would have to say something music related. I want her to like listening, playing, singing, doing anything involving music. Without music, my life would be drastically different... sometimes music was the only therapy that got me through the tough times!