We've made this yummy pizza several times, and so I thought I'd share the recipe! For the crust, I recommend the pillsbury dough, you can find it with the canned biscuits and croissants.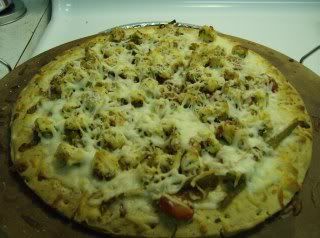 Ingredients:
Pizza Dough/Crust (we used a premade crust for this pizza)
1/2 cup butter
1/2 cup garlic powder
1 cup parmesan
1 cup mozzerella
2 tablespoons parsley
2 tablespoons basil
1/2 cup diced tomatoes
1/2 small onion sliced thinly
1/2 green pepper sliced thinly
1 chicken breast, diced
Preheat your oven to 375 degrees F.
First, dice your chicken and toss with 1 tablespoon basil, 1 tablespoon parsley, 1/4 cup garlic powder, and 1/2 cup parmesan. Throw on the grill on low heat. Next, slice your onion & pepper and grill these beside your chicken. Drain your diced tomatoes (we use the canned version) of any excess fluid and toss with your veggies.
Meanwhile, in a small frying pan, mix your butter, remaining garlic powder, basil, parsley and 1/4 cup parmesan over low heat. There will be enough for your pizza sauce AND to dip your pizza in.

Once your sauce is melted, pour over your pizza crust (not too much or you'll have a soggy crust).
Next, add your veggies & chicken - doesn't have to look pretty! LOL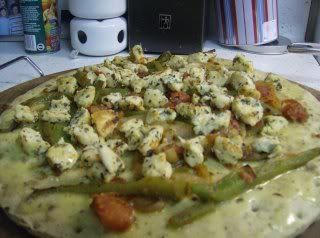 Then add your mozzerella and the remaining parmesan.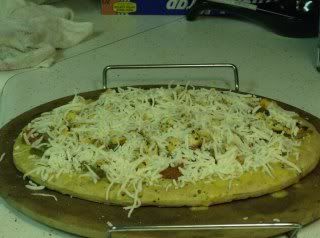 Cook until your crust is browned (lift the pizza with a spatula to check center) and your cheese is melted. Slice and enjoy :)