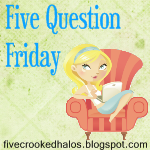 1. How often do you shave your legs in the winter?
Before I got pregnant I shaved them religiously... when I got pregnant I couldn't reach my legs in the winter.... and when I became a mother I gave up finding time to do it. So I shave them when I can... it's not really a priority lol. Thankfully my husband loves me either way ;-)
2. Valentine's Day Cards for your spouse: funny or romantic?
Funny!
3. What are you most looking forward to about spring?
Being able to walk down to the park with Elah... it sucks being trapped in the house all the time.
4. What's your favorite way to pamper yourself?
A cup of coffee or hot cocoa and a good book!
5. Does your tax return go into savings or do you spend it instantly?
This year half went into savings and half went towards a few bills, a few things we needed, and a few things we wanted... and of course a few things for our girl :)