**FYI - we are moving this coming week so I will be totally MIA for about 2 weeks. I'm going to try to at least do FQF, but we'll see. Might not have internet hooked up next Friday.**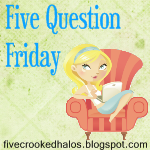 1. Are you looking forward to the time change this weekend?
Actually, yes! It really won't affect me or Boogie that much, especially since lately she's been going to bed later than usual and waking up later than usual. It might just put her back on her normal schedule lol! It also means more sunshine to enjoy in the evenings and SPRING!
2. Are you getting a new iPad/do you want an iPad?
I wish! I want to save up for one to use for homeschooling, there are some amazing apps to use for school and development :-D
3. If money was not a problem, what is the one thing you would splurge on?
My dream house.
4. How did you and Mr. meet?
We actually went to school together and then re-connected via Myspace!
5. Summer is right around the corner. Bikini or one piece?
LMBO! Right... I'll be sporting a one piece and STILL would even if I had abs of steel. Thank you, VERY much! ;-)