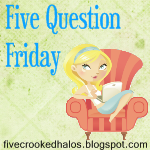 1. Will you run to the store or to pick up a kid looking a mess?
Kind of! I do pull my hair up and put on more suitable clothing... I usually wear nursing tanks and pajama shorts that would NOT be appropriate for the public. Not that they're revealing or anything, just too short and revealing for me!
2. Do you finish a book if it's boring or you don't like it?
Yes, I always finish my books!
3. Beach or mountain vacations?
Both! Even though we live in the mountains it's always nice to take last minute or short weekend trips to Gatlinburg. Longer vacations I prefer going to the beach!
4. What thing/event says "winter will end and spring is around the corner" to you?
Daffodils, tulips, and violets!
5. Would you prefer couples or family vacation?
Family. FAMILY. Family! I much prefer spending time with J AND Boogie, vacations just aren't as fun with my girl!