First up we have....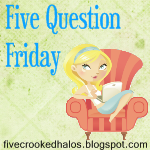 1. Dream job... realistic and completely unrealistic.
Realistic? Stay at home mommy... which is amazing! I NEVER though I would have the chance to stay home with our kids, but we are making it happen! Unrealistic? I'd love to be in charge of youth rallies and youth ministry outreaches like Xtreme Summer. Doing the worship would be AMAZING! But... that's very unrealistic. But, perhaps someday when my kids get older I can get involved with the youth group at our church?!?!
2. Do you fart in front of your significant other?
Bahahaha! Of course! Wouldn't it be kind of weird NOT too?
3. What's the furthest you've ever traveled from home? How far and where was it?
Orland, FL. I know... big whoop right? I went with the marching band my sophomore year of high school... we went to Disney World, Universal Studios, Downtown Disney, and Islands of Adventure.
4. How do you celebrate birthdays for your kids? Family only or friends?
We haven't reached Boogie's first birthday yet, but it's slowly creeping up on us! Actually... I should say it's quickly running up on us... Ay yi yi! I think we will be doing immediate family and close friends only. Meaning, a few friends, grandparents, uncles (Boogie only has 2), and godfamily.
5. Fave thing about fall?
What's NOT to like? I live in Western NC... the most BEAUTIFUL place in the world during this season! The changing leaves are spectacular and it's sweater weather. Woohoo!
And now... a little whining.
I'm getting sick. I haven't had a cold since Boogie was 4ish weeks old? Maybe 5ish weeks? My nose has slowly become stopped up over the course of the day, and now I feel feverish and yucky. Noooooooo! This means that more than likely Boogie will get sick too. So then, not only will I be taking care of a sick child, but also a sick child who has two top teeth slicing through her gums and causing her great pain. Can I say ay yi yi again? Ay yi yi. Good news amongst the bad? J gave me a nook for our anniversary last week, and it's AWESOME. I finally figured out how to get library books from the NC digital library downloaded onto it... so now I'm currently reading
Water for Elephants
. So far, it's great!
And finally... blogging/social media hiatus.
J and I were talking the other day and we decided to take a week long "vacation" from blogging and social media (aka Facebook and Twitter and for me... babycenter). Do you ever think about how much those sites and others you visit on a DAILY basis take away from your relationships and families? It's astonishing really. While I'm sitting on my phone checking facebook, I could be reading a book to my daughter, or cuddling with my husband having a good conversation. Ugh, it's sick. So... starting Sunday we're taking a break. We'll be back next Saturday.... maybe. And really, with all the crappy changes facebook is making (it's supposed to change again, and it looks like a myspace copy, blech.) I don't know if I even care to stop using it. Anyways. There you go. I'll probably blog once more before Sunday...so until next time... adieu.