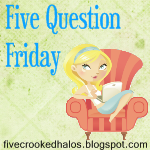 1. Shoes in the house - yay or nay?
Ay yi yi... this is a sore subject in the Massey household. I HATE that when you wear shoes around the house that you track dirt, POOP, mud, bacteria, and numerous other gross things alllllll over the floor. I didn't care so much until my daughter started playing and trying to crawl on the floor. She now also tries to EAT the carpet. So dear hubby of mine... what do you think of taking your shoes off at the door NOW? See. Sore subject!
2. What do you call them - flip flops, slippers, thongs, etc?
Flip Flops
3. What song are you almost embarrassed to admit you know all the lyrics too?
Ha! My Humps by the Black Eyed Peas. Yea.
4. What is the best quality to have in a friend?
Laughter... if you can laugh about anything and everything with that person... then your set! It means that no matter the circumstances, no matter your differences, and no matter what conflict arises... you can find laughter in the moment.
5. Do you know what you want for Christmas?
As a matter of fact.... I'm getting my Christmas early!!!!! A Babyhawk Mei Tai is on the way and I'll be getting an organic Ergo next week! Woohoo! Hi, my name is Sarah and I am addicted to babywearing.