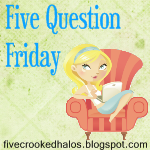 1. Did you make any fun purchases this week?
Nope... haven't made ANY purchases this week, LOL!
2. If you could go to any musical concert what would it be?
I really want to see Celtic Woman... but then again, I'd love to take J to see Third Day and/or MercyMe in concert... he's never been to a Christian concert!!!!
3. What is your least fav/most fav house chore?
Least fave... dishes. Luckily I have a dishwasher, and his name is J! :) My most fave... diaper laundry. Not always fun, but every time I stuff a diaper I'm reminded of how one little diaper can be used over and over to not only help the environment, but to also save money and keep my little one's booty out of chemically filled sposies!
4. Would you prefer new appliances or clothes?
That depends on when I would get them. If I had to get them NOW, I'd say appliances. If I could get them after we're done having kids and after I'm done nursing our children... then clothing. I don't have a SINGLE top that isn't stained with breastmilk... and NOTHING I do will get those darn stains out!
5. Miracle Whip or Mayo?
Mayo... mmmhmm.