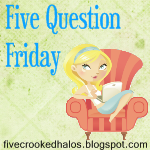 1. What is the weather like where you are and do you like it?
Today was BEAUTIFUL. Long sleeves and jeans were all we needed! But it's January... and winter isn't over yet. So honestly I just want to get the cold yucky wet stuff out of the way and move on to spring! That means it needs to snow, melt... and be spring. Ok?
2. When you're sick what do you seek comfort from?
Sleep. Water. Reality TV.
3. What do you need to do before the end of the month?
Pay rent. Oh joy!
4. Have you ever served on a jury?
No... nor have I been called... knock on wood.
5. If you could be any animal, what would you be and why?
An eagle. Today is one of the days that I just want to soar above the clouds so I can be closer to God and further away from here. It's been a rough day!