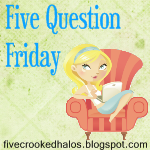 1. Where do you hide the really good snacks?
I don't... why hide them? My daughter doesn't get into the kitchen and the snacks are for everyone.
2. Do you keep your vehicle clean?
We try... but it always seems that clothing, toys, food wrappers, junk mail, etc ends up piling up. It's clean right now though!
3. Have you ever been to Vegas?
Nope, and I don't really have any need/want to go either.
4. Warm room light blankets or cold room warm snuggly blankets?
Cold room with warm snuggly blankets. Although I've kept it a bit warmer lately because Elah has been getting cold and she doesn't like sleeping with a blanket.
5. What is the worst airplane/flying experience you've ever had?
Never been in a plane... nor have I ever flown.