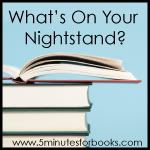 There is nothing I love more than putting Boogie to bed in the evenings and cuddling up under the covers of my own bed with a book (or my nook!). I love to read, if given the chance (and the time) I could read several books a day.
This month I've read:
This book is excellent, I love every Francine Rivers book I've read so far. This book is about a young girl named Marta who lives in Switzerland with her parents and two siblings. During this era (first world war) in poor families, the children (particularly the girls) were expected to work in other households to help with the family finances. Marta's father sends her to a maid "college" where she is taught how to be a proper maid for a household.... her abusive father expects her to stay and work to provide for his family, her mother pushes her to "spread her wings and fly" so that's exactly what she does. Her journey through this book is both amazing and inspiring. The book continues on to the life of Marta's daughter Hildemara, and then her daughter Carolyn. Allof their journeys are remarkable and each has a lesson to learn.
This is the sequel to "Her Mother's Hope", this book continues off where the last one left... in Carolyn's life. Carolyn starts her story in this book with Tuberculosis and her mother comes to take care of her and her family. As Carolyn grew attached to her grandmother, Marta as a child, now Carolyn's daughter May Flower Dawn grows attached to her grandmother Hildemara. This is the best of the two books... the turmoil between generations, the love that is found... the journey that they all face. It's phenomenal.
Oh, this book... I read this book in ONE night. It's a wonderful book that I'm sure all of you have heard about or have even seen the movie. The story is based in the early 1960's when African American's were "free" but still didn't have really ANY rights. A white woman who dreams of being a reporter decides to write an anonymous book filled with the stories of white family's maids.
There is not a single book by Karen Kingsbury that I haven't like. Her series are awe-inspiring, Christian-based... and I LOVE them. This particular book is the 3rd of the Bailey Flanigan series, which actually continues from several of her other series. I won't describe this one because you really should read the other series first, and then the first two of this one! But I HIGHLY recommend them ALL!
The first in the Rose Trilogy series, Nora Robert's writes again about life with the Amish. This particular series is about a girl named Rose who is helping take care of her mother (who was severely injured in an accident), hoping to find a beau, and is dealing with many other struggles in her young life. You meet her sister Hen who left the Amish life to marry an Englisher but is now craving the life she left. I love Nora's books, they are wonderful.
This is the 2nd in the Rose Trilogy series, and I'm still reading it... but so far, so good!