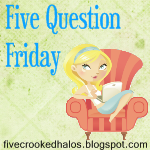 1. What's the last thing you spent too much money on?
School. College is WAY too expensive.
2. What celeb chef would you want to make you dinner?
Paula Deen... hands down. Down home, southern cooking, how could you go wrong? And if she was unavailable, I'd settle for Emeril, lmbo.
3. Where do you hide things when visitors pop over or do you let them see the real deal?
Ha... if you come here, unless you have impeccable timing, you're going to see the real deal. I don't have time to clean my house just because you're coming over... sorry! If it just so happens to be clean, well congratulations! You can see my floor!
4. Who is your oldest living family member?
I think Justin's nanny. Maybe? Or possibly one of my great aunts... not sure.
5. What is your favorite DQ Treat and/or Sonic drink combo?
I love DQ's moolatte's.... and my favorite drink combo at Sonic is a strawberry limeade or a strawberry sprite (essentially the same thing).