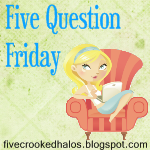 1. Is there a special dish you prepare that you are famous for?
According to my husband... Broccoli Cheese Casserole (courtesy of The Pioneer Woman... that woman can COOK!)
2. Are you (did you) go Black Friday shopping?
Heck no. No. No. And no again. I'll pass, really. If I had any desire to snag any deals I'd do so online!
3. What are your strangest holiday traditions?
I don't know if any of our traditions are strange... we put our tree up on Thanksgiving (with the exception of last year and this year.... think huge and pregnant and wanted it DONE last year... and too much going on this year, so we put it up last week instead), we buy a Christmas book to read on Christmas Eve every year... and we get Christmas pj's. None of those are weird... lol.
4. Pecan or pumpkin pie?
Pumpkin.
5. When will you put up your Christmas tree?
We put it up last weekend! Our tradition, as I stated before, is to do so on Thanksgiving, but we had too much going on! So it's up, and gated off so that Boogie can't touch it, LMBO!