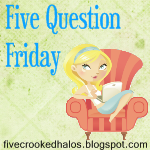 1. Do you have a go to song that always puts you in a good mood?
2. Are you a real Christmas tree kind of person or do you go with a real fake one?
Real real real. And I have a fake one up. Ay yi yi. When we lived in TN we weren't allowed to have a real tree in our apartment so we purchased this fake one. It really is a pretty tree... but it's just not the same. And I didn't want to deal with pine needles and sap... and watering... and vacuuming this year. (I mean the pine needles every day, I do vacuum sometimes lol).
3. What are you thankful for?
Today I'm thankful that it doesn't matter whether YOU think co-sleeping, cloth diapering, babywearing, breastfeeding (in public without a cover or WITH a cover... geez), baby led weaning, extended rear facing... or whatever they heck else gets on people's nerves about me.... what matters is that I'm doing what's best for my child. She's healthy, happy, and spoiled rotten. So yea. I'm thankful for my FREEDOM.
4. Which fashion fad from the past do you wish you could wear today?
Um. Poodle skirts. Mhmm. Saddle shoes, scarf tied around my pony tail. I could pull it off, lmbo.
5. Do you wait until the "low fuel" light comes on before you fill up the gas tank?
LOL, yep. Honestly, we don't pay attention, and we usually notice when it's RIGHT above Empty. Our car doesn't have a "low fuel" light... or a dinger thing to alert us. We probably need one....
DON'T FORGET TO ENTER THE MAYBELLINE GIVEAWAY!!!!!!!