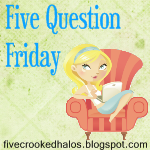 1. What is your favorite Christmas decoration in your house?
At the moment it's Boogie's Veggie Tale nativity scene... how can it not be my favorite when it doubles as a decoration AND a toy??!!
2. Do you finish your Christmas shopping early or are you a last minute type?
We are DONE. So we get our gifts early... I'm even contemplating starting in January next year... hello after Christmas sales!
3. When do you turn your heat on?
When it gets cold... ours cuts on automatically at a certain temp. I think I have it set on 68 during the day and 72 at night. It gets pretty cold in our apartment otherwise!
4. Do you ever wish your blog was private?
I do. Some days I want to vent about certain events, people, things... but I can't be honest and as truthful as I want because those certain people might read it!
5. Do you put deodorant on before or after you put on your shirt?
Before.