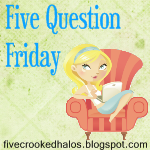 1. What's the best Christmas present you've ever received?
Well, even though Boogie was born 3 days after Christmas I of course have to say her! As for anything else... I'd have to say Wilbur. Don't roll your eyes mom! I got Wilbur in the first grade, he's a big grey bear with a burgundy bow. I loved him, I used him as a pillow, I hugged him when I was sleeping... and now unfortunately he's in a bag at my inlaws house in their storage building... so now he smells like gas. Ugh. So much for sharing him with Boogie right?
2. Worst/Funniest White Elephant gift ever received?
I have never participated in a White Elephant gift exchange... don't really have any desire to either!
3. Is your Christmas tree plain and simple (white lights and matching ornaments) or is it wild and crazy (colored lights with lots of ornaments collected over the years)?
Since mine and J's first Christmas together we've had pretty matchy match trees with color coordinating lights, ornaments and decor.... this year we decided to just put up some colored lights and start putting up our favorites and hope to add new ornaments each year! Boogie even made her own ornament this year... which I'll share as soon as MOM SPRAYS THE CLEAR COAT ON IT! Was that a subtle hint or what?
4. "How" do you iron your clothes? The old fashioned iron/ironing board way, the shower, back in the dryer, etc.
LMBO... I own an iron and an ironing board.... and I think I've used it twice. So, if something is wrinkled we either wear it wrinkled or it goes in the dryer. I may look a little frumpy sometimes, but at this time in my life my main concern is that Boogie is dressed, looking cute, and her bag is packed... and as long as I'm dressed we're good!
5. How much baking do you do for Christmas and what are your "must make" items?
Ha. I'm not much of a baker. If you want a baker go see Christa! I mean.. sometimes I bake. A few weeks ago I baked like 6 things in one week, that's more baking then I've done in 2 years.
At Christmas I tend to make the appetizers, the sides... and I eat the baked goodies