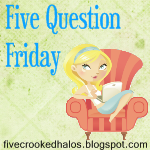 1. What is your favorite Easter tradition?
I always loved the Easter egg hunts and the sunrise service at church. I have some great pictures of Dylan and I hunting eggs at Granny & Papaw's house.
2. Are you a "shower" or a "long, hot bath" kind of person?
Depends.... if I have time and someone to care for Elah, I
love hot bubble baths, otherwise it's either a quick jump in the shower or a long, not hot shower with Elah LOL!
3. Can you parallel park and if so when is the last time you did it?
No! Pretty sure the last time I tried was during Driver's Ed!
4. What is your favorite Easter candy?
Reese's Eggs... they have more peanut butter!
5. Easter: do you go all out with the Easter Bunny or focus on the religious part of the holiday?
We will do Easter baskets and egg hunts, but our primary focus will be about what Easter is really about!
************** I haven't had time to revamp the blog... forgive my blurry pictures and blah look at the moment!*******************