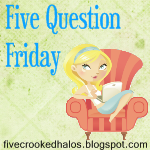 1. What is your current favorite tv show?
GLEEEEEEEEE!
2. What's the worst haircut you ever got?
Pixe cut... I got it recut the next day into a "punkish" cut... long hair in the front, spikey in the back. Thought I was AWESOME, but it WAS much better than the pixie cut! LOL!
3. What was something that you did as a child that you thought you were so cool for doing?
Dancing to Achy Breaky Heart ... thanks mom...
4. Do you have any GREAT frugal family fun tips?
Rent a place that has a good sized kitchen and COOK YOUR OWN FOOD.... seriously, saves a ton!
5. Would you drive across country if you had the money to fly?
Yes... you'd get to stop and see all kinds of things on the way across country. What a great experience!