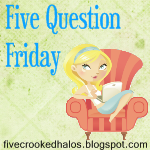 1. If you knew your best friend's spouse was cheating on her or him, would you tell her (him)?
Yes... in a heartbeat. I would be more hurt if someone didn't tell me that my hubby was cheating on me.

2. Soda in a can or a bottle?
Neither... I prefer fountain drinks.

3. What do you wash first, hair or body?
Face, lol!

4. What advice would you give to any new mama?
Be confident in the choices and decisions you make, don't let other's opinions falter yours.

5. What is your best hangover remedy?
To not drink... it works really well!