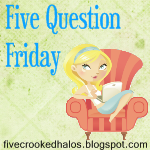 1. Do you think cursive writing is overrated? (Schools in Indiana have now voted to take teaching cursive writing out of their curriculum)
No, I think it's important... what's so bad about learning cursive?
2. Do you still use a pocket calendar or notepad or do you keep your info in your smartphone?
I use a 3 ring binder for meal planning, appointments, bills, etc. I use my phone for everything else!
3. What 3 things would you save if your house was burning down? (Your family and friends are safe)
A wrap to carry my daughter, my bible, and Boogie's lovey.
4. Country mouse or city mouse, err person?
Country
5. If you could pick ANY reality show to go on, which would you pick?
A Baby Story or Bringing Home Baby