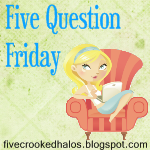 1. If you had the oppurtunity to bungee jump, would you?
I've done one of those "bungee jump" things at Six Flags, not sure if that really counts though, it was more like a swing then a bungee LOL! But otherwise, NO.
2. Would you rather go to the move theatre or to the drive-in?
Drive-in! Can you imagine how much more fun that would be with Boogie? No worries if she's crying, I can change her diaper right there, nurse her without covering.... sweet!
3. Do you have your groceries delivered?
Nope, but that would be nice on days when I don't want to take Boogie out.
4. Eyebrows: Do you wax, thread, pluck, or stay au naturel?
Usually pluck, otherwise au naturel, LOL!
5. Would the people you went to high school with be surprised by your life today?
Yes and no... depends on what aspect of my life they're looking at.