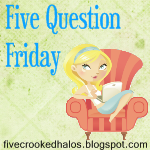 1. What is your go to comfort food or sweet?
Wings. Hands down, my husband makes the best boneless hot wings EVER.
2. What is the most romantic place you've ever been too?
Restaurant wise... Melting Pot. Place wise... probably Okaloosa Island. It IS where we honeymooned, so how could it not be romantic? LOL
3. What is your favorite things about fall/Halloween?
I live in the BEST place during fall... Western NC has the most beautiful mountains when the leaves change. It's SO pretty! So I love that... and that it's sweater weather!
4. How would you spend 24 hours alone?
Alone? What's that? I haven't been alone since May 2010... seriously. Ummm... I'd clean the entire house top to bottom, catch up on homework, catch up on reading, work on some crafts I've pushed to the side and take a LONG, hot, bubbly bubble bath.
5. Does your husband bring you flowers? Are you the bring-me-flowers type of girl?
He does! When we first started dating, especially during the weeks I was sick in bed with mono, he brought me a carnation every day. Now he gets me flowers on special occasions, I LOVE them!