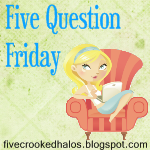 1. Do you prefer ice cream in a cone or a bowl?
How about ice cream in a waffle bowl? LOL
2. What three things do you love the smell of?
Boogie after she's had a bath, pine trees, and cinnamon!
3. Giftcards or no? (in regards to gift giving)
Yea... that's the best gift for someone who's difficult to buy for.
4. What sports did you play in high school if any, and do you still play any of them?
Soccer and marching band... and if you don't think marching band is as strenuous as a sport. Think again. I wish I could still play at least indoor soccer, but my knee won't cooperate.
5. Were you in band in high school? What instrument did you play?
LOL! I promise I didn't see this question before I answered number 4. So yes. I was in marching band, symphonic band, and jazz band. I played alto saxophone.