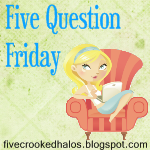 1. Where do you escape to when you've had enough?
Ha... usually to our bedroom. At least that's what I've done lately! Boogie is struggling BIG time with being a 'big' girl and sleeping in her own room. I was in TEARS yesterday and had to hand her off to J and walk away... so I escaped to our bedroom and just bawled!
2. What shows are you watching this fall?
I haven't been able to watch anything when it actually comes on, but I do watch Vampire Diaries, Grey's Anatomy, and Private Practice when I can online.
3. What was the longest roadtrip you've ever taken and where did you go?
Orlando, FL with the marching band my sophomore year in high school. We went to Disney, Islands of Adventure, Universal Studios, Downtown Disney... and I think that's it.
4. Do you plan on taking your kids to Disney World?
Yes... we're actually thinking about going some time in 2012
5. What is something people would be surprised to know about you?
I don't know if I leave much to be surprised about really. Sometimes people are surprised that I don't like seafood or mushrooms... but that's kind of dumb. LOL