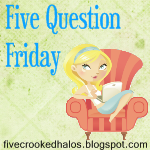 1. Do you prefer cotton, silk, or flannel sheets?
This time of year? Flannel.
2. What time zone are you in?
Eastern
3. What is your favorite part of the holiday season?
The smell of evergreens... peppermint candles.... and this year we'll finally be able to spend Christmas with our little one! So, we'll be starting our book tradition! We get a new Christmas book every year and read it on Christmas Eve :-D
4. What is your favorite "wintry" drink?
Hot cocoa with a peppermint Kiss melted in!
5. In your opinion, what is the worst job in the world?
Hmmm. There's quite a few jobs I wouldn't want to even try... but the worst? Working in a slaughter house. Butchering animals. I couldn't do it. No way. No how. I'd for sure be a vegetarian for the rest of my life.