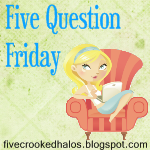 1. Have you ever had roommates?
Just my hubby and Elah :)
2. How many names do you/your children have? (i.e. Prince Charming William Phillip Arthur Louis John Jacob Jingleheimer-Schmidt)
Elah has a first, middle, and last name.... AND Boogie is her nickname!
3. Did you watch the Royal Wedding?
Justin and I watched clips that evening.
4. What is the messiest room in your house?
At the moment.... the ENTIRE HOUSE.
5. What is your ideal mothers day?
A quiet day at home with my little family!