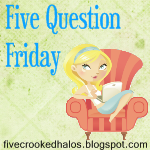 1. Tube socks, calf socks, crew, ankle, none?
Ankle or none
2. Was your childs (children's) name a mutual decision or was it a debate? If you don't have children, do you plan on giving your spouse a say, or do you have a name you MUST have, regardless if your other half likes it or not?!
Elah was a name I really liked and J slowly fel in love with it... we wanted another biblical name to go along with it and I found Moriah and he immediately loved it. J will have a say in all our children's names.
3. What is your favorite type of weather?
A beautiful Spring day when flowers are in full bloom, the sun is shining, and the temperature is just right!
4. If left to your own devices, what time would you wake up every day?
10am... and sometimes Boogie lets me!
5. Have you bought your cemetery plots yet?
No, I want to be cremated... J isn't sure what he wants.