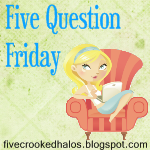 1. Do you and your spouse go to bed at the same time?
We try too. Elah goes down for her first stretch between 8 or 9pm, so if she decides to follow her routine, we all go lay down, pop in a movie, and I nurse Elah to sleep.
2. A question for the ladies...What kind of facial hair do you like on your man?
Justin looks like a baby without his goatee and mustache... I love his cute little goatee!
3. What's the worst vacation you've ever taken?
I don't know if I've been on a bad vacation? Maybe Justin can refresh my memory when he reads this!
4. What's the first-ever blog you followed?
Life Happens During Naptime
5. Do you enjoy amusement parks?
Love love love! Before we get pregnant with Baby #2, and when I am comfortable enough to leave Elah (or can talk a grandparent into tagging along)... I want to take Justin to Six Flags!!!!! We LOVE coasters!